VoIP. How it works in detail. Troubleshooting, fraud cases. Theory and practice. Free e-book
The book is designed for people who want to learn how to fix issues with VoIP - SIP, RTP, RTCP, UDP, TCP, IP protocol stack. It includes small tasks for homework to check your new learned skills by practice. Please
contact us
if you want us to extend or clarify any part of the book.
Warning: the e-book is protected by copyright law, making copies is not allowed
The e-book is dynamically updated with new content.

Contents
What is VoIP. VoIP business types, market players.
What is VoIP call
Encapsulation and structure of packets
Protocols used for VoIP
Types of VoIP issues
VoIP quality indicators
VoIP software bugs
VoIP troubleshooting methods
Real VoIP troubleshooting cases
---
What is VoIP. VoIP business types, market players.
VoIP stands for "voice over IP protocol". Today it is used not only for voice: it transfers video data, IM (instant messaging, text chat)/presence, other data like SS7 protocol (SIGTRAN). Major benefit of the VoIP is low price of data transfer: internet is very cheap. Another benefit is low price of both client-side and server-side hardware needed for voice/video calls: VoIP client software can run on cheap Android or Raspberry Pi devices, on already existing Windows laptops and PCs; VoIP server software can run on Linux or Windows servers; no special hardware is needed (if we compare VoIP with SS7/TDM). The VoIP has helped to reduce price of international calls dramatically, prices still go down (it is good for customers). Major drawback of the VoIP is easiness of fraud and untransparency in market: fraud in IP network is much easier than fraud in
PSTN
network.
Here is
list of popular VoIP business types, VoIP market players
. The VoIP market is complex and some business types are confidential, so this list is not full.
OTT (over the top) app. developers provide apps for free voice/video calls over internet; Skype, WhatsApp, Viber, etc. The OTT apps allow free calls between people having same application installed on 2 remote devices. They also allow making calls to real phone numbers for some payment (in this way generating VoIP retail traffic), and in case of international OTT bypass allow making VoIP calls to real phone number which is linked to customer's account, via internet and for lower price (compared to termination prices of MNOs).
Mobile network operators (MNOs) / tier-1 operators offer official ("white") VoIP routes where calls are terminated to real phones over GSM networks. Such VoIP routes are direct, they deliver Caller ID, and they have great quality and high price.
VoIP retail - B2C business when customers make mostly long-distance (international) calls to real phone numbers at cheaper price (compared to dialing from mobile phones). Such business aggregate voice calls from many people (typically immigrants) and send the voice traffic to VoIP termination providers.
Wholesale VoIP termination providers (tier-2, tier-3 operators) aggregate VoIP traffic and resell VoIP routes. Having many interconnections, wholesalers provide A-Z VoIP routes - VoIP routes to all countries in the world. Also, the wholesalers are able to redirect calls to multiple redundant routes: if one route is down, call gets redirected to another one which is up. Some wholesalers specialize on particular country or region and particular VoIP traffic type.
Grey VoIP termination providers (are considered by MNOs as fraudsters) provide a way to send international (long-distance) voice calls to real phone numbers via GSM gateways (SIM boxes), reducing price by using local tariffs. Together with OTT termination providers, the GSM termination providers play important role in the market, reducing prices for calls. Although the GSM termination is not considered as "legal" in destination countries, we see that it is done by many people including corrupt employees, right inside MNO.
VoIP marketplaces where wholesalers and direct providers meet and interconnect: various websites and global telecom industry events/conferences
Fraud management and revenue assurance (FM&RA) companies help MNOs to fight against grey termination - block SIM cards that are being used for grey international traffic. This business does not only include blocking SIM cards, there are many other ways of revenue leakage; it is very complex and very confidential. FM&RA use many interconnections to send test calls to block SIM cards which are used by grey termination providers
Call centers receive calls on real phone number(s) and transfer the calls to agents. The call centers may also generate outgoing calls in case of telemarketing, this type of VoIP traffic (CC) is unloved by VoIP termination providers. Incoming calls go to call centers via PSTN-SIP gateway or via DID providers
DID (direct inward dialing) providers route calls from real phone number to call center or IP PBX via VoIP protocol
IP PBX / UC (unified communications) platforms connect employees of a company with free voice/video calls; also connect employees using real phone number(s). The IP PBX systems generate retail VoIP traffic and send it to VoIP providers
Software/hardware developers - the complex VoIP market needs complex software and hardware for every component of VoIP system, also test tools and services. Some companies like Speedflow and China Skyline also do VoIP wholesale business
Looped generated traffic providers send VoIP calls via a chain of VoIP wholesalers for various confidential purposes. The generated calls usually get disconnected if generated traffic gets terminated by some other provider or IVR, or if generation side detects mismatch in billing.
IPRN (international premium rate number) providers are same as DID providers except that the calls are used for payments from caller to service provider. Unlike a normal call, premium rate calls are more expensive, and part of the call charge is paid to the service provider, in this way enabling businesses to be funded via the calls. Adult chat lines (phone sex) and tech support are a very common use of premium-rate numbers. Other services include directory enquiries, weather forecasts, competitions and voting (especially relating to TV shows).
Various fraudsters and hackers - see types of VoIP fraud and attacks here
For advanced readers - diagram of international VoIP market is
here
.
What is VoIP call
VoIP call is a series of IP packets with data inside the packets, sent between caller and callee over IP network. Structure (format) of the data inside the packets and way of communication between caller and callee are standartized by
protocols
. In 2018 most typically used protocols for VoIP are
IP
,
UDP
,
SIP
and
RTP
. Here is diagram of VoIP call using the above-listed protocols.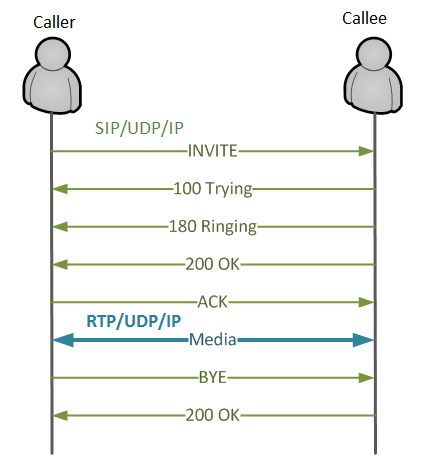 Arrows mean transmitted packets; "SIP/UDP/IP" means SIP-protocol data
encapsulated
into UDP and IP packet, in other words SIP packet transmitted by means of UDP and IP protocol. "RTP/UDP/IP" bold bidirectional arrow means multiple audio packets with voice data transmitted between caller and callee in two ways. The voice audio data is encoded by
codec
,
encapsulated
into RTP and transmitted by means of UDP and IP protocol.
Encapsulation and structure of packets
Encapsulation in IP packets is a way how the data inside packets is organised: one upper-level protocol is nested inside another lower-level protocol.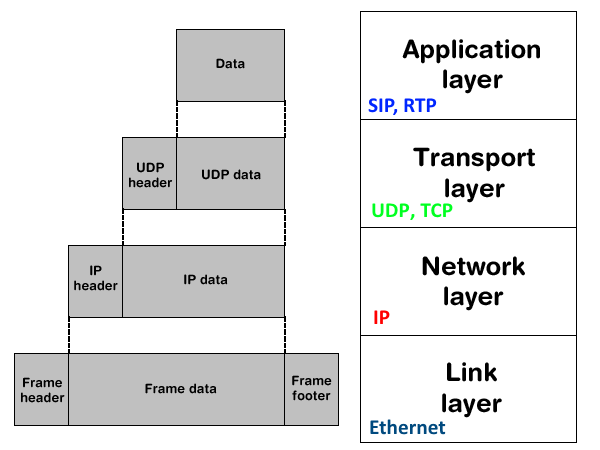 ---
The next picture displays captured packet (sniffed, recorded packet data) by
wireshark
software tool.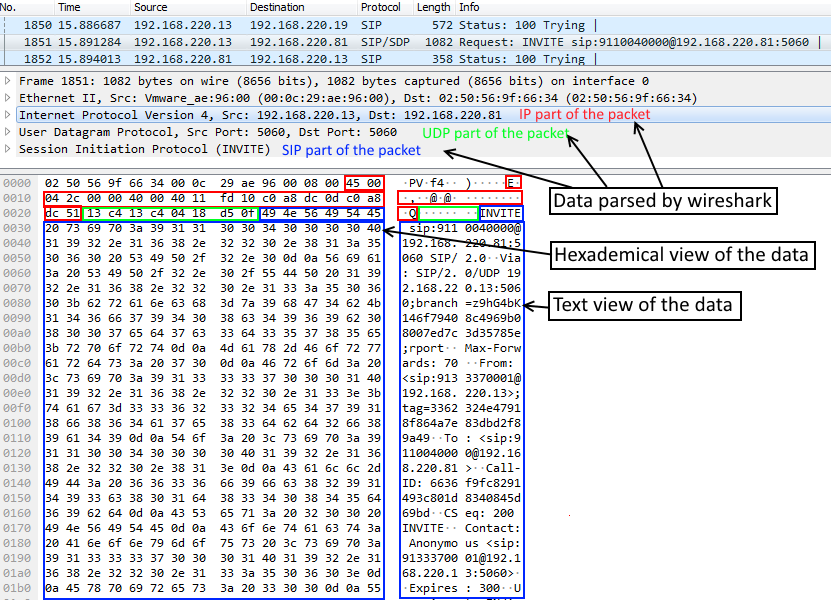 ---
Protocols used for VoIP
Network protocol analyser software tool "Wireshark"
IP protocol (IP)
Transport protocols: User Datagram Protocol (UDP)
Transport protocols: Transmission Control Protocol (TCP)
Session Initiation Protocol (SIP)
Real-time Transport Protocol (RTP)
Encrypted RTP: SRTP (unfinished)
The content is not ready yet. ZRTP
RTCP protocol (unfinished)
The content is not ready yet
Session Description Protocol (SDP) (unfinished)
Types of VoIP issues (unfinished)
Types of VoIP issues by symptom
Failed calls
Calls dropped after connection

no response to 200 OK - firewall on UAC side [sample sip trace]
200 OK sent to wrong destination. UAC behind NAT
failed re-invite or UPDATE (ping) request (done by session timer)

Audio quality issues

No audio
One-way audio
Bad audio quality
High round-trip delay
Types of VoIP issues by root cause
Firewall misconfiguration

Router or server may require reboot to apply new firewall settings
VoIP quality indicators (unfinished)
Multiple-calls quality indicators (unfinished)
Indicators applicable for VoIP route, VoIP traffic, VoIP provider, VoIP originator.
Answer seizure ratio (ASR). Averaging interval
Average call duration (ACD). Averaging interval
Post-dial delay (PDD)
Single-call quality indicators: audio quality (unfinished)
RTP max delta
RTP delta
RTP jitter
RTP packet loss
RTP packet loss burst rate
RTP packet loss in jitter buffer caused by jitter
RTP packet loss in jitter buffer caused by RTP clock skew
G.107 MOS
PESQ MOS
Confidence score (0-100%)
VoIP troubleshooting methods (unfinished)
Understanding components of the VoIP system and interaction between them
Short-time experiments
Long-time experiments
VoIP software bugs (draft)
Bug is a symptom of abnormal, unexpected behaviour of the VoIP software. For example:
Rejected VoIP call in case when the call should not be rejected
Bad performance: high RTP jitter and high post-dial and answer delays
VoIP software crash causing dropping of all current calls: major error or memory leak. The crash could be permanent (when one has to restart the VoIP software manually) or temporary, when the software gets recovered by itself automatically
drop of current call after some duration invalid audio: silence, one-way, invalid IVR lost CDR records or corrupt CDR files invalid billing calculation
.....reproducing the bug is the key. Ways to debug the VoIP software (is also related to other software, in general):
Code review, making experiment in developer's mind
Reproduce the bug in debugger, within ide integrated development environment (IDE), put breakpoint, see values of variables and code flow path. Pros: easiest way to see what happens in the code, using the IDE. Cons: is not possible when the bug happens only on customer's site, remotely, and remote debugging is not possible. In many cases the reproducing of customer's environment on developer side is possible, but complex. .. run software in IDE but access customer's environment from developer's machine via internet
Reproduce the bug on customer's side, analyse logs
For regression bugs: trace at which version bug appears. go back in history of versions to see the difference
when the bug is reproduced, we have 2 code flows: working and non-working. find difference - minimize the difference (iterations) - Root causes of bugs: reasons: regression bug change of interface between modules , refactor of module types. bug or issue?
Real VoIP troubleshooting cases
The real cases are reported with permission of our customers and readers of the book.
Case #1: Mitel 6873i SIP phone registration at 3CX IP PBX
The issue has been reported by Telin, cloud IP PBX service provider, reseller of 3CX:
We have new Mitel 6873 handsets (SIP phones) deployed at a client's location and there appears to be an issue with the phones connect back to a 3CX server at the same time when another softphone connects to the same extension. It creates a contact name mismatch and mitel phone unregisters. We have been working with mitel for a couple weeks and they are pointing their finger at 3CX and 3CX pointing finger back at them.
Troubleshooting steps:
Clarify the situation with Telin. What happens in terms of SIP protocol

At the same time both Mitel phone and 3CX softphone send REGISTER to 3CX server to same extension. Mitel phone sends via UDP. 3CX softphone sends via tunnel.
The Mitel phone receives 200 OK response to the REGISTER, this response contains multiple "Contact" headers.
The Mitel phone displays an error related to registration, and calls do not work. When 3CX softphone is not registered, everything is fine.

Response from Mitel:

Mitel phone analyses contact header which is received from server in response to register. It does not accept the syntax.
Incorrect:
Contact: <sip:003@127.0.0.1:50195;transport=TCP;rinstance=1-xs7ou4dgsbv7tg5.ntvyho6kmku6kv-a;ob;inst="D7FCE2">;reg-id=1;+sip.instance="<urn:uuid:00000000-0000-0000-0000-00008340d0fa>";expires=74

Correct:
Contact: <sip:003@127.0.0.1:50195;transport=TCP>;rinstance=1-xs7ou4dgsbv7tg5.ntvyho6kmku6kv-a;ob;inst="D7FCE2";reg-id=1;+sip.instance="<urn:uuid:00000000-0000-0000-0000-00008340d0fa>";expires=74

The problem seems to be in incorrect contact header in the 200 OK for the softphones. Below is one of the sipphone contact headers in NotWorking trace. In this contact header the > sign is added in an incorrect place which takes some of the feature parameters like rinstance inside the sip: part. I have shown the incorrect and correct way (based on how Mitel phone processes the contact header).

Clarify the situation ourselves by making the experiment one more time, sniffing working and non-working REGISTER cases.

Working case: one mitel phone registers and receives "200 OK" response to REGISTER with following contact header:


Contact: "Mitel Phone"<sip:701@10.0.6.39:5060>;+sip.instance="<urn:uuid:00000000-0000-1000-8000-00085D5C0866>";expires=120

Not working case: one 3CX softphone is registered, at the same time one more (mitel) phone send REGISTER with contact header

Contact: "Mitel Phone" <sip:701@10.0.6.39:5060>;+sip.instance="<urn:uuid:00000000-0000-1000-8000-00085D5C0866>";expires=0

and receives "200 OK" response to REGISTER with following 3 contact headers:


Contact: "Mitel Phone"<sip:701@10.0.6.39:5060>;+sip.instance="<urn:uuid:00000000-0000-1000-8000-00085D5C0866>";expires=120
Contact: "Mitel Phone"<sip:701@127.0.0.1:5060;rinstance=1-hkg2btlqkdv6ydfaixt62uwrre1zz4sd;inst="b98a8bbf">;expires=62
Contact: <sip:701@127.0.0.1:5488;rinstance=f27cf6aeccdab97f>;expires=55

We see that the response is not correct. It muct contain only 2 contact headers, not 3, since only 2 phones are registered to one extension

At this point we know that we have a multi-component system and an issue related to one or multiple components, or to combination of components. It is helpful to understand which component causes the issue. So we make a new experiement with a new system containing different components: 3CX PBX, Mitel phone and Polycom phone: we replace 3CX softphone by Polycom phone to see what happens. This is what we observe: One more experiment with Polycom phone and Mitel phone. Polycom sends contact header

Contact: <sip:007@10.0.6.8>;methods="INVITE, ACK, BYE, CANCEL, OPTIONS, INFO, MESSAGE, SUBSCRIBE, NOTIFY, PRACK, UPDATE, REFER"

and receives

Contact: <sip:007@10.0.6.8:5060>;methods="INVITE, ACK, BYE, CANCEL, OPTIONS, INFO, MESSAGE, SUBSCRIBE, NOTIFY, PRACK, UPDATE, REFER";expires=120
Contact: <sip:007@127.0.0.1:5488;rinstance=8d481b0693d20404>;expires=106

- this is also correct, 2 contact headers in response, and it works in this combination too.
Based on the experiments we make conclusion and suggest possible ways towards solution

3CX PBX is wrong in sending 3 Contact headers. Further action: submit bug report to 3CX team including SIP trace
Mitel phone could have a configurable setting whether to verify Contact headers in response to REGISTER or not. Further actions: try to downgrade to old firmware version which does not verify contact headers in response, or request a new version with the configurable setting
Submit my case
Chapters to be written in future
components of voip and telephone systems

jitter buffer. impact of JB: higher RTT. JB affects only RX RTP stream, not TX
codec: encoder, decoder
RTP clock. RTP clock skew. Synchronization in PSTN
PLC (for G.711)
SIP endpoints (User Agents)

pc phones
mobile dialers
hardware phones
VoIP-PSTN gateways: SIP-PRI, SIP-SIGTRAN-SS7, SIP-GSM, SIP-bluetooth

IP Network, other traffic running along with VoIP traffic. Congestions causing packet loss. Duplicate packets
IP routers, IP switches

Network Address Translation (NAT). port triggering. port forwarding
SIP going through NAT. Symmetric SIP behaviour on SIP servers
RTP going through NAT. Symmetric RTP behaviour on SIP servers
SIP ALG (application-level gateway)
DSCP, prioritization, VoIP QoS, IP SLA

firewalls
VPN and other tunnels
Synchronous Bandwidth Optimizers (SBOs)
Internet Service Providers. Static IP, dynamic IP. NAT, firewall
Hosting providers. Amazon, Azure, NAT, firewall
SIP servers

Routing-billing engine
Proxy servers
Softswitches
Session Border Controllers (SBCs)

Heterogenous SIP implementations
SIP attacks
Fraudulent VoIP traffic

IP PBX servers

voip route providers, sip trunks. direct routes. PDD, ASR, ACD. FAS, international bypass
DID providers. 1-800 lines. Packet loss and audio quality issues. Call center audio quality monitoring
Call generators and receivers. Looped generated traffic.
Public Switched Telephone Network (PSTN).

TDM. E1, PRI, SS7 trunks.
Routing. OPC, DPC.
Vulnerabilities and fraud scenarios

network impacts. jitter, packet loss. Burst rate, G.107 e-model. RTT. report via rtcp within 1 hop. non-visibility after sbc - need of full audio path testing.
cases of troubleshooting. 1 works in one case, doesnt work in another case. comparison method.
intermittent bugs.
software tools and services for VoIP tests.

active testing, passive monitoring - startrinity, sipp, gl
continuous monitoring, one-time tests - voipmonitor, startrinity
test automation. unit tests, unit test frameworks.
voip routes testing. i-test.net, chekmyroutes. cli delivery
penetration test tools
IVR audio verification / 2-way audio verification test tools

test cases by object of testing

ip network. nat. bandwidth, dscp
softswitch, pbx,cucm
gateway sip-pstn
call center
PSTN public switched telephone network
conference servers
ivr servers. ivr testing audio verification
voip routes. cli delivery. uptime. fas, overbilling. voip-OTT routes

test cases by symptom

always happens or intermittent issue?
ways to increase probability of intermittent issue. stress testing. complexity of test cases. difference between test case and real voip calls.
audio issues: chopped sound, one way audio, no audio. nat issues. jitter, loss, dscp flag
call failure:408, 503,other codes
server memory leak
server intermittent crashes
server sip and rtp stack software upgrade, stability test

test scenarios (scripts)
unit tests with IVR audio verification
regular dialing: same number, params from csv
monitoring, email notifications
SIP Security, SIP Trunking
list of RFC documents related to SIP. general overview for every RFC. RFC3261, RFC 5359. SIP REFER, blind transfer
VoIP fraud types

FAS: types: IVR, LDFAS, etc. generation, detection. 200OK-ACK delay
International bypass: OTT, GSM. Blending. CLI delivery testing. CDR profiling, filtering
Sending dialer traffic
Brute force attack
Man-in-the-middle attacks
Sending malformed SIP packets.
DOS attacks (REGISTER, INVITE). DDOS attacks.
UDP flooding: SIP, RTP. TCP SYN flood attack. Role of SBC's
Weak/default passwords - brute force attacks
IP spoofing
Spam over IP telephone
Toll fraud
Vishing - Phishing over VoIP
Missed calls with CLI = IPRN
Traffic to IPRN while route provider is not aware of IPRN ranges

Fraud tools