| | |
| --- | --- |
| | Continuous internet speed test tool |
Internet speed test with long duration: long-term download and upload bandwidth (speed) test tool
HTML (online), Windows, Linux, Android versions, free and open source software
Measures download and upload bandwidth, packet loss and round trip time (RTT, ping)
Measures and tracks bandwidth of your internet connection during a long (unlimited) period of time
Measures reliability of internet connection (uptime in percents, max. downtime)
Tracks connection outages and drops of bandwidth
Runs on your own Windows PC as a server, to check stability of your LAN/wifi router(s)
Use cases
Selecting the fastest and most reliable internet provider - 3G, 4G LTE, wifi, satellite, ADSL, FTTx
Measuring reliability of internet connection for mission critical applications, for consumer applications (e.g. youtube)
Testing stability of wifi, LTE network adapters
Selecting best wifi/3G/4G router/modem location, best antenna orientation
Instructions
Assumption: you experience bad internet quality when you use an
application: web site in browser, messenger, trading terminal, etc
, you want to fix the problem, and you want to know what exactly happens - is it problem of internet provider, your device, wifi router, antenna location, or the app itself.
Run this Continuous Speed Test, install it
Use your application, with this test running in background
When you experience a problem with the application - look into results of this test
If the test detects a downtime - it is problem of internet provider or hardware. If no downtime is detected - it is a problem of the application
Run the same test on another hardware: another device or another wifi router, or change location of antenna. You can run test on multiple devices at same time to see difference
If the test reports downtimes on multiple different devices - it is exactly problem of internet provider: send the results to the provider and let them fix the problem. If they are not able to fix it - use another internet provider
Contact us by email: support [at] startrinity [dot] com if you need an advice how to fix internet issues. We maintain a database of known issues with providers and hardware vendors
Frequently asked questions
Android version
Download APK
Screenshots: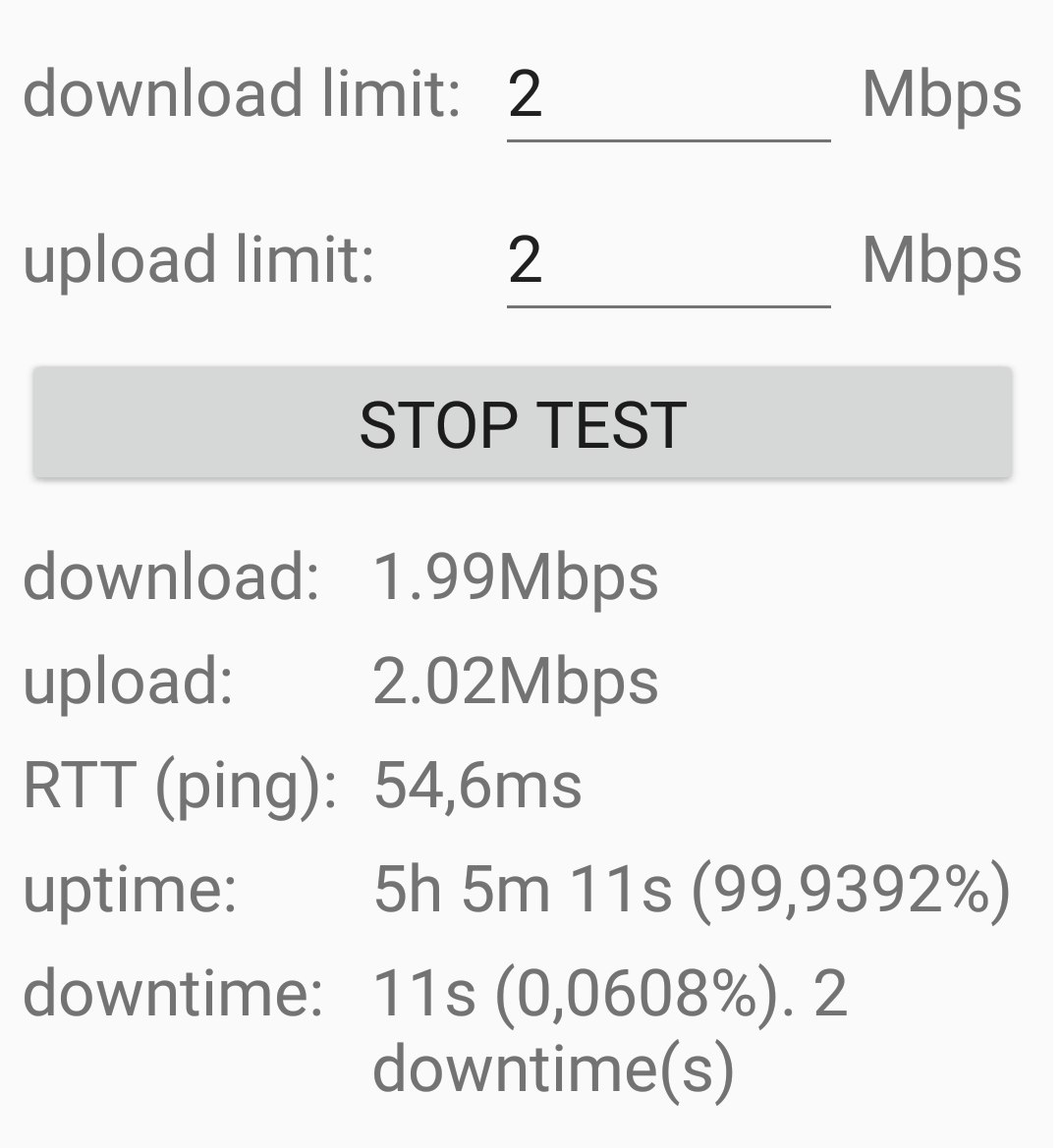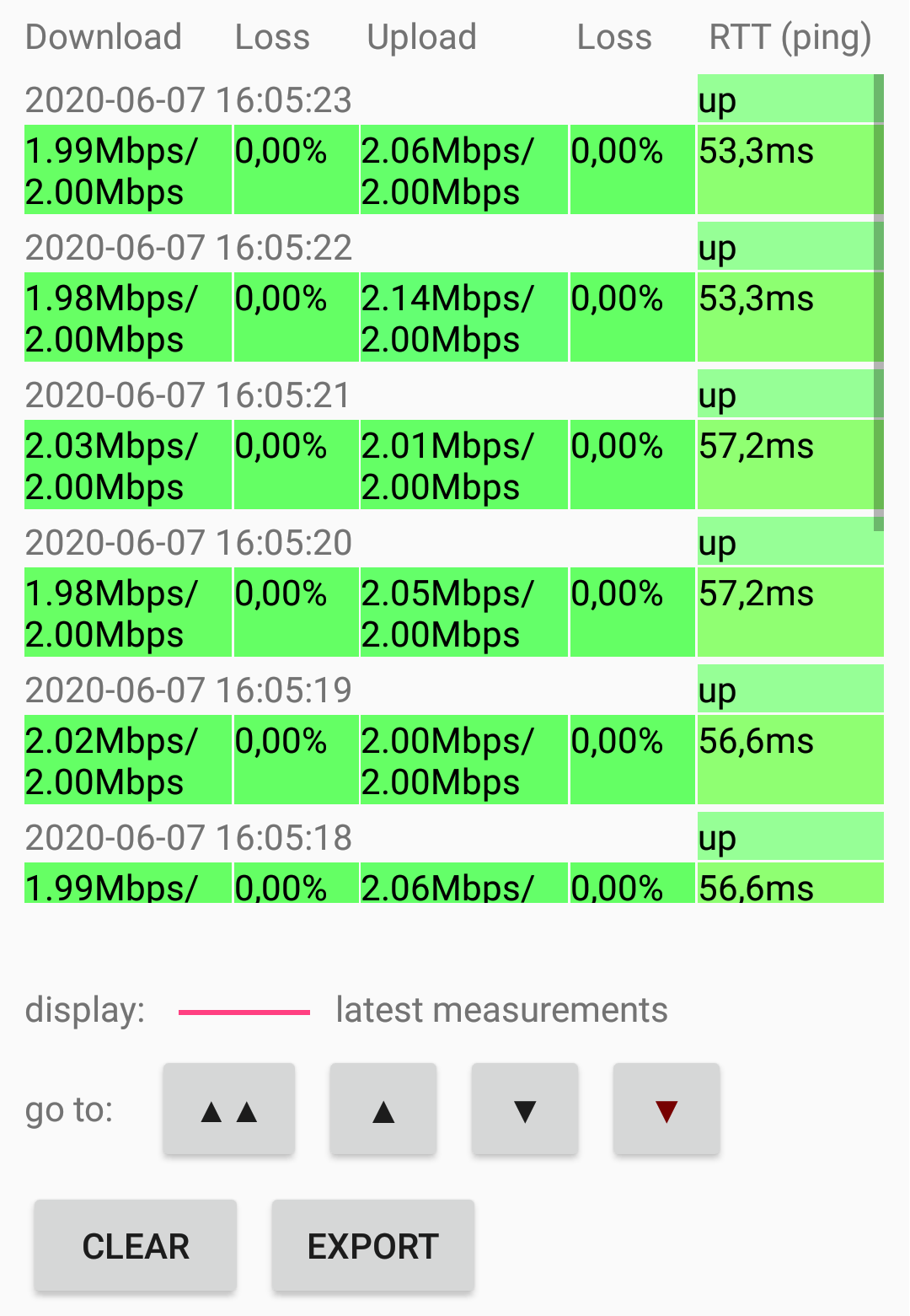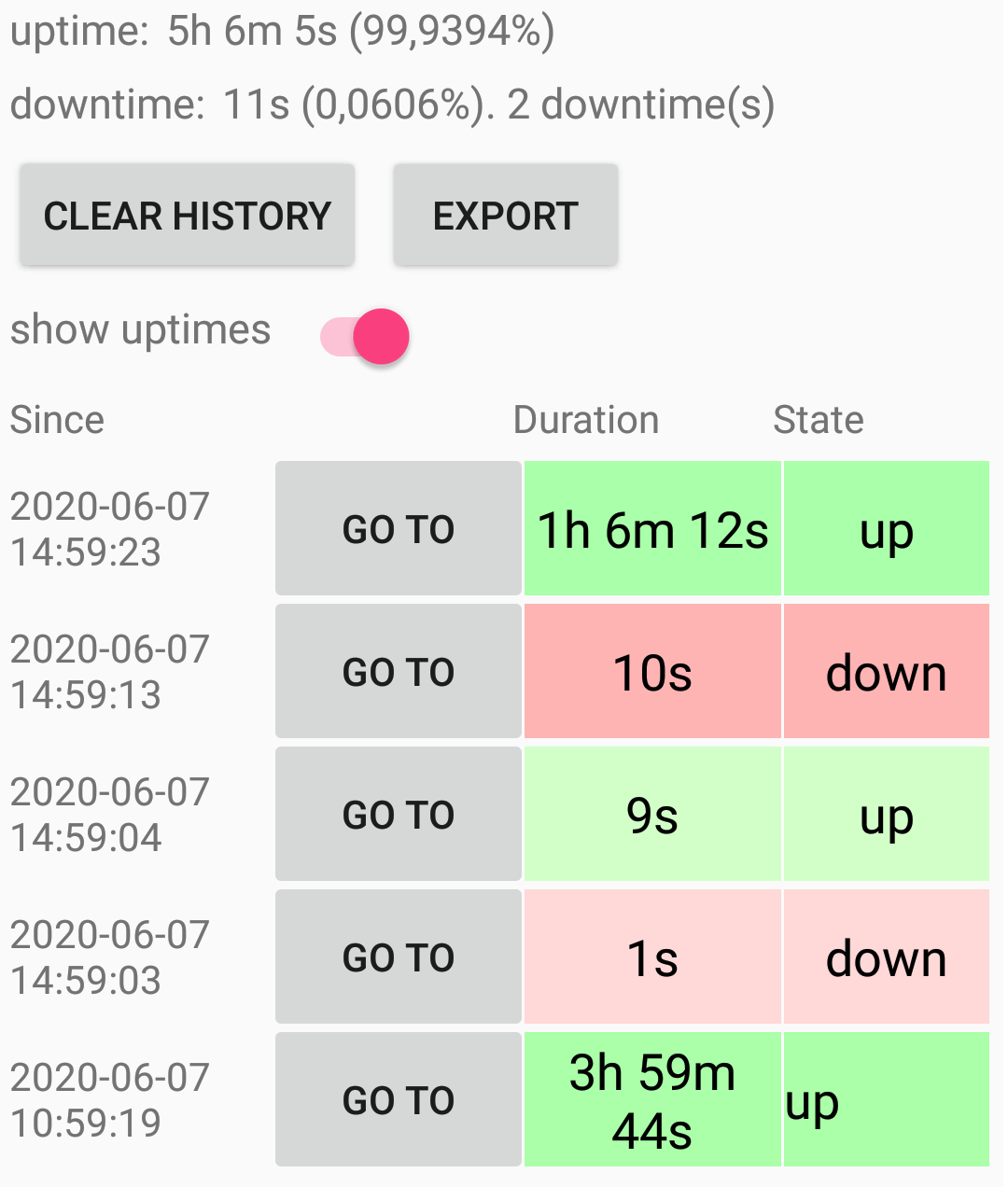 HTML version (online speed test in browser)
Warnings:
You may get inaccurate measurements due to HTML5 browser performance limitations. For better accuracy please use a windows version.
All browser-based tests are inadequate if you measure internet speed for VoIP apps (skype, WhatsApp, Viber), video conference apps, other real-time communication applications like Forex trading apps. Therefore we recommend you our free VoIP readiness test.
Windows version
Download for Windows
Screenshots:

Linux version
Compile from source code
Screenshot:

Source code
Reviews
I love your test tool, it is helping me to understand the real issues with my internet connection. I have a VDSL connection with approx. 18Mbps down and 1Mbps up.
First Review: App is good, You can check your internet connection speed in different areas of your room or any other place and know downtime and uptime for a specific speed as you set, I liked this new concept.
Edit: One problem I found is speed is not accurate, When my net speed is 100kbps it shows 200-250 kbps.
Change Log
2019-06-18
easy GUI to run the tool as your own server, to test your LAN and wifi routers
Roadmap (planned features)
Charts to display the measurements
Measure jitter
Display RTT statistics towards multiple servers, with server's IP geolocation
Need something else? Please contact us to request new features, or to express your interest in already planned features.